Going to Hawaii, some people think they should go to Roy's. Roy Yamaguchi founded the restaurants in 1988 in Hawaii, and they have since been merged with the Outback Steakhouse group. Anyone who has seen Roy on television knows he is a very nice man, winner of the James Beard award, and known as one who puts service first.
The service:
The restaurant was busy but all staff members were attentive to the table. Waiters not even in the same area would come by to pour wine, bring food, or pick up the food that ended up on the floor from our 2.5 year old son. The busboy was quick to bring our son his meal, some toys, and anything he needed. The waiter knew the menu and was quick with recommendations. The wine list is very good- with a full range of priced wines.
The food:
The butterfish, which is really a sablefish from Alaska, is one of their featured items. I found it odd to go to Hawaii and find this on the menu (black cod is the other name.). Since it is a classic, I ordered it. The butterfish was bland - little flavor, although well cooked it was poorly seasoned.
This theme was common: seasoning was lacking in the dishes we tried.
The pork belly - how can you mess up pork belly? The skin was crisp - perfect. But the fat fell apart, the meat had little flavor - almost as if the pork belly had been frozen and then quickly grilled, or had been left out.
Sushi should be easy - but again, bland. Most sushi is allowed to freeze and then be brought back up. This sushi appeared to have been left to thaw a bit long- the texture of the meat was as if it was frozen at too high a temperature and left to sit in a refrigerator too long. The meat had lost its natural texture and was wet, coming apart.
The soufflé - another signature dish - far too sweet, overwhelming the taste buds. Perhaps it is a part of America that loves things too sweet, but a souffle should have a balance. It seemed more like the popular American lava cakes than a souffle.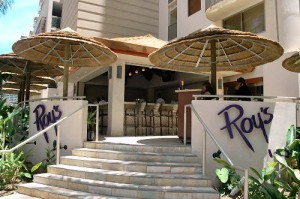 The decor:
Quite dated - as if it opened in 1988 and no one did a face lift since then.
Roys has become a classic for "fusion" and the original concept was great. Roy's food, when he is cooking is delicious. However, this is now a chain restaurant, and with chains there is a problem in their kitchen. Sad - Roy is a nice guy.